Tin-glazed tiles from Delft, Delft tiles,
Delft faience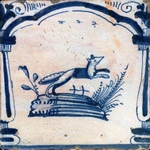 Fox in an archway (so-called poorttegel); blue;
1st decade of the 17th c.; 13,2 x 13,2 x 1,3 cm
What is that, what does that mean, where does this objekt come from, and first of all: who wants to have that?
Well - the last question is easily answered: I do want to have that! Anybody who has such a piece lying in his cellar and wiches to sell it can write me an email naming his price. Would be a pity if you stuffed the tiles in your trousers and got for that reason into trouble with mom.
Other more difficult questions, however, are harder to explain.
Delft faience, what is that?
The term "Delft faience" is the name for pottery or tiles made of clay which are painted in blue and tin-glazed.
What does "faience" mean?
"Faience" is French and means tin-glazed earthenware. The term is derived from the Italian city of Faenza, a well-known center of "majolica" production during the Renaissace, from where majolica were exported to France and Flanders.
Why is it called Delft?
The term "Delft" comes from the Dutch City of Delft, which was famous for its blue and white decorated earthenware even beyond its borders in the 17th and 18th century. It was the so-called time of prosperity, when Delft tiles belonged almost exclusively to the highly styled living-culture in the Netherlands and the northern part of Europe. They were used on tiled stoves and fireplaces or to decorate walls and even entire rooms.
| | |
| --- | --- |
| | Biblical scene, "the men who were sent by Moses to search the land" -Numbers XIII.,23.-; blue; corner motif: ox-head; Rotterdam, mid-18th c.; 12,7 x 12,7 x 0,8 cm; such tiles were often used on tiled stoves and fireplaces |
But please bear in mind that only a small part of "Delft tiles" were produced in Delft itself.
Many more of these faience-plates - usually 13 x 13 cm - were made in factories in Amsterdam, Antwerp, Dordrecht, Gouda, Haarlem, Harlingen, Hoorn, Leeuvarden, Leiden, Makkum, Middelburg, Rotterdam and Utrecht. Therefore it would be better to call them "Dutch tiles".
Aster in a jagged rombig
border (diamond); corner motif: polychrome French lily; probably Gouda, 1620 - 1650;
13,2 x 13,2 x 1,2 cm
Nevertheless the term "Delft tiles" is still used as a collective name for "Dutch tiles".
Furthermore the Dutch tin-glazed technique reached England at the end of the 16th century, and a little bit later Germany, where the production of the blue and white tiles, following the Dutch way, became a great importance during the 17th and 18th centuries. Considerable production facilities of tiles in the Dutch style developed also in France, Portugal, Denmark, Sweden and Russia.
| | |
| --- | --- |
| | Example of a German "Delft tile" from Hannoversch Münden, the individuall painting has hardly resemblance with the traditional Delft tile: jumping roebuck; yellow with black lines; corner motif: quarter rosette; 1770; 12,7 x 12,8 x 0,6 cm; rare |
And where does this objekt come from?
It should be mentioned too, that tin-glazed tiles had already been produced in Spain since the 12th century; long times before, namely in the course of the conquest of Spain, the Arabs brought the already hundrets of years old majolica technique there. In Spain tin-glazed wares (tiles and pottery) had the first height in the 14th and 15th centuries.
During the 15th century a high number of Spanish tin-glaze wares was exported to Italy. As the faiences were shipped via Mallorca they became also known as "maiolica" (because the Old-Italian name for Mallorca was "Maiolica"). In Italy this kind of colored glazed ceramics was further developed with regard to technique, quality, colour and decoration patterns, with a remarkable height during the Renaissance.
In the early 16th century Italian majolica and tile makers brought their tin-glazed technique to Antwerp, when they settled down there.
Antwerp belonged in those days to the southern part of the Netherlands, which were under Spanish rule.
In the northern provinces, the present-day "Holland", the first factories were founded from 1570 on, namely in Middelburg, Dordrecht, Delft and Haarlem, as well as in Rotterdam and Amsterdam. The reason was that a large number of protestant majolica potters emigrated to such places on the occasion of the Dutch war of liberation against Spain and especially the fall and plundering of Antwerp.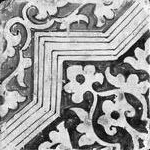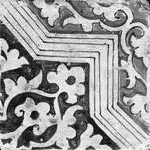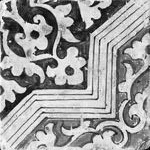 Ornament tile from this early period, four tiles forming a star pattern; polychrome (blue, ochre and white); 1570 - 1600; 13,2 x 13,2 x 1,8 cm. The same discoloured tile is added three times by photomontage, to give an impression of the total pattern, which is however complete if 16 tiles are placed together
There the produced tiles were mainly painted in the Moorish or the old Persian style, that is to say with multicoloured (polychrome) ornamental patterns (renaissance motifs).
"Persian ornament tile"; polychrome; using sgraffito technique (lines are carved into the glaze or pigment before glost firing); perhaps Delft,
1580 - 1620;
13,0 x 13,0 x 1,5 cm
It did not take long that the Spanish/Moorish ornamental faience patterns receded into the background. Namely the Spanish elements, especially the square border (Moorish square/diamond) round the central motif, were shortly mixed with the Italian style of colourful pictures from portraits, soldiers and animals. After that fruits and flowers were common too. All these tiles were also painted within wide circular borders (Italian circle band).
Hare in a diamond;
polychrome; corner motif: palmette ("cogwheel") painted in "reserve technique"; probably Rotterdam, 1580 - 1625, (early 17th c.); 13,6 x 13,6 x 1,5 cm
This kind of decoration can be described as the origin of typical Dutch tile painting and design (about 1600), which gradually replaced little by little the ornamental pattern.
When Chinese porcelain came into vogue, starting from 1620 on, the majolica craftsmen changed their painting style again by imitating the Chinese decorations. The "Delft blue", nowadays all over the world still well known, was created as a result of this Chinese influence.
| | |
| --- | --- |
| | Deer surrounded by typical Chinese decor components, scalloped border and fretwork (Wan-li) corner motif; blue; Rotterdam, 1620 - 1660; 13,0 x 13,0 x 1,4 cm |
From 1600 onwards the production of Dutch tiles grew rapidly in the northern provices, due to the increasing demand, the beginning of the "Golden Age" of tile-production in the Netherlands.

More tile factories were founded eg in Utrecht and Harlingen and after 1660 also in Makkum

.
Two typical examples of the "Golden Age": left from the 2nd half of the 17th c. (Utrecht): biblical scene (Samson pulls down the house upon the Philistines; Judges XVI.28.-30.); right from the early 18th c. (probably approx. 1700): riverside with dovecot and chapel in the background; blue; corner motif: spider


blue; corner motif: spider; 13,0 x 13,0 x 1,0 cm


blue; corner motif: spider; 12,8 x 12,8 x 0,9 cm
During the 19th century the success story of hand-painted Dutch tiles came to an end as a result of industrialy manufactured tiles in England and Germany. These tiles were much more durable and mass-production by using cuttingmachines as well as tile press and finaly in case of printed pictures became possible. A further reason was that more and more tapestries and wallpaper were used to decorate walls.
At the end of the 19th century in the Netherlands a revival of the traditional tile-production took place, nevertheless the Delft (Dutch) tiles never didn't regain their former importance.

But the beauty and the uniqueness of the hand painted tiles did remain (

Fig.: tile-picture, composed of 2 by 3 tiles, each 13,2 x 13,2 x 0,8 cm: Birdcage with yellow canary; polychrome; Utrecht, 2nd half of the 19th c., presumably 1875).
If I have aroused your interest in these unique "gems" please read my website for further information and if you want to know more about the history of Dutch tiles you should visit a museum for such tiles, which you can find mainly
in the Netherlands: e.g. Museum Boymans-Van Beuningen in Rotterdam; Fries Museum in Leeuwarden; Huis Lambert van Meerten in Delft; Museum Het Princessehof -Nederlands Keramiek Museum- in Leeuwarden; Nederlands Openluchtmuseum in Arnheim; Nederlands Tegelmuseum in Otterlo; Rijksmuseum in Amsterdam;
but also in England: e.g. the British Museum in London; Birmingham Museum and Art Gallery; Liverpool Museum; Museum of London; Palace of Holyroodhouse in Edinburgh; Chatham Historic Dockyard - Chatham - in Kent;
as well in France: e.g. Musée de l'Hospice Comtesse in Lille; Château Beauregard - Val de Loire; Château de Rambouillet in Yvelines; Musée National des Céramique in Sèvres;
and further in the USA: e.g. Cooper-Hewitt Museum in New York; Museum Fonthill in Pennsylvania; Governor's Palace in Williamsburg; the Philadelphia Museum;
and finally - that's my tip for Germany: e.g. Museum of Nienburg; Museum of sacral art and liturgy in Heidelberg; the Palace of Nymphenburg in Munich, the Palace of Augustusburg in Brühl and the Palace of Oranienbaum in Sachsen-Anhalt or the Palace of Caputh near Potsdam, where you can admire magnificent halls decorated to the full with Dutch tiles of former days.